Travel Card
Dublin's Best Value Travel Card that provides unlimited use of the city's public transort network for 72 hours as well as 48 hours on the DoDublin Hop on Hop off Tour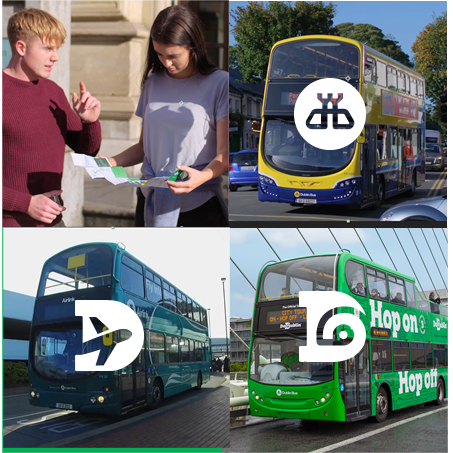 DoDublin's Freedom Card is the the only ticket in Dublin that can cover all your transport needs offering you 48 Hours Hop on Hop off tour as well as 72 hours of unlimited travel on Dublin's public transport network.

The DoDublin Freedom Card is the all-in-one sightseeing and transport ticket, giving visitors the freedom to explore all of Dublin's famous sights at their leisure. It is our best value product and offers huge savings while providing for all your transportation needs.
This ticket features huge discounts and you'll make great savings if you need to use Dublin's public transport system as well as the airport bus and DoDublin City Sightseeing buses. You'll also receive free entry into the Little Museum of Dublin, a free Walking Tour, Kids (u14) go Free (on the hop on hop off bus only) and you'll receive a free map and DoDublin guide with lots of great discounts at attractions throughout the city.
Hop on Hop off tour
Airlink Express
The Dublin Bus Network
The Luas Tram Network
The Dart + Commuter Train Network
The Go Ahead Bus Network
The Airlink Express is Dublin's main airport transfer. Offering two routes, one of which covers stops in the North of Dublin Cty (the 747 route) and one which stops in the South (the 757 route). Between them they cover most areas in Dublin City. The Airlink is the only service that uses the Dublin Port Tunnel, which means it avoids all the city traffic and travels direct from Dublin Airport into the heart of the city, the Airlink will beat taxi cabs every time both in terms of time and price.
The DoDublin Hop on Hop off service is the most famous in Ireland. Dating from 1988, nobody can show you around Dublin City like a DoDublin guide. You'll visit all of the city's major attractions, hear about the history of the town, learn about famous Dubliners both present and past, you'll even get a chance to join in and sing some Irish songs, as your DoDublin guide entertains you.
The Dublin public transport network is extensive and covers all of Dublin city and county. You will have the freedom to jump on a Dart or commuter train, Luas tram, and any of the Dublin Bus or Go Ahead buses.
'' 
If you are visiting Dublin for a few days, then this is the best pass to get! We used the airport bus, hop on hop off bus and the Dart to get to our hotel. A great combination ticket!
 ''
Hunter Rigbsy, USA, TripAdvisor, March 2018